Our School Team Successfully Climb Australia Section Hughes Peak
On 22th September, and our team successfully challenge "7 + 2" the fourth station -- Australia's highest peak section Hughes peak.
Hughes peak is located in the southeastern Australia, at an altitude of 2228 meters (7310 feet), is Australia's highest peak.
Our school team by Dong Fan, small cattle hong, Li Lun, deqing European beads, tsering peng-fei he, Song Gong,, li-juan ma, and 1 doctor and 1 changjiang daily reporter of 10 people, such as li-juan ma is the only female in mountaineering.
On September 17, our school team starting from Wuhan went to Australia, 18, arrived in Sydney. During the Sydney, in addition to material preparation, mountaineering team also conducted field walking tour.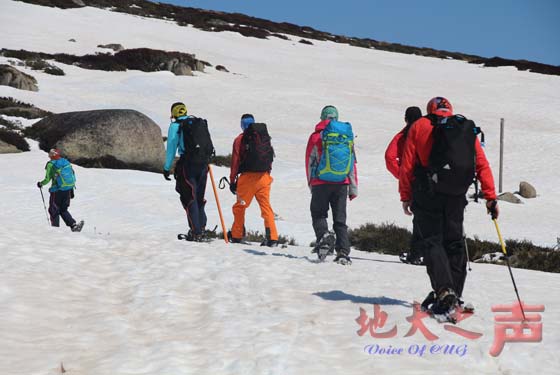 On September 21, the team left Sydney, to repair, the peak. After more than six hours of drive in the afternoon arrived at bottom of 32 kilometers town ginde byrne, here is also in the traditional sense of the peak climbing stronghold.
In the collection, analysis, forecast, players such as intelligence, mountaineering team captain Dong Fan decisive decision: in 22 headers to ahead of time.
After adjustment, prepare in Sydney, at present, people's mental state, physical condition is pretty good. The weather forecast, tomorrow's weather is more suitable for mountain climbing. We decided in advance, the summit in order to avoid the boat." Dong Fan said.
In the morning of 22th September, our school team to the summit of the mountain. Players are encouraged each other, help each other, through the thick snow to climb up. White plains line is not clear could not prevent the steps of the players, hiking boots water change shoes couldn't shake the players with frozen feet firmly at the top on determination.
Brave the wind and snow more than eight hours, the final 10 players in Beijing time on September 22 13 points 52 points all successful govinda.